Ten post dostępny jest także w języku: Polish
New releases from Attack Squadron forbeginning of Septemeber 2015 are three accessories sets 1/48. Popular sets 1/72 scale are released in bigger 1/48 scale now. See them all!
1/48 RATO for A-4 Skyhawk 2 pcst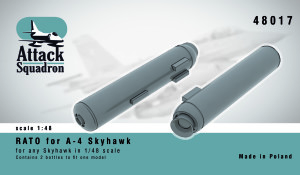 Set of Rocket Assisted Take Off (RATO) for A-4 Skyhawk model kits. Excellent for detailing your Vietnam War A-4 Scooter from Marines. RATO were attached to three hard points on Aerodynamic brakes for enhance take off capability from airfields in war zone. Set contains two RATO to fit one A-4 Skyhawk kit 1/48 from any manufacturer.
1/48 C-130J Hercules sponsons correction for Italeri kit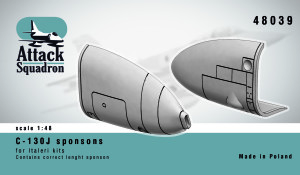 Correction set for C-130 J 1/48 scale model kit from Italeri. Set corrects wrong length of undercarriage sponsons in Italeri Hercules kit. Thanks to 3D design and perfect casting your C-130 gets authentic look of that famous aircraft!
1/48 USN 150 gal Douglas Fuel Tanks 2 pcs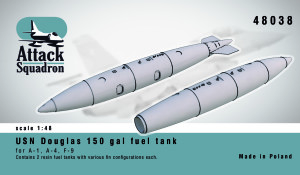 Set of fuel tanks Douglas 150 us gal 1/48 scale, with optional tail section. Resin set for any A-4A/B Skyhawk (usually two tanks under wing). Resomended for TF-9J Cougar from Kittyhawk 1/48 scale model kit. Also recommended for Top Gun A-4E/F Skyhawk – one tank centerline, without tail section.