Ten post dostępny jest także w języku: Polish
New models have been printed in 3D and will be soon put into production:  Italeri Hercules engines and GPS-controlled bombs – JDAM. Learn more and see the 3D prints.
Engines for C-130J Hercules Italeri 1/72
Following days it will be ready for production replacement engines for the recently reissued Italeri C-130J in 1/72 scale model . Our set accurately reflects the interesting shape motor nacelles with distinctive air intakes, the correct outline of spinners and two small antennas on the bottom of the cover with outlet flap .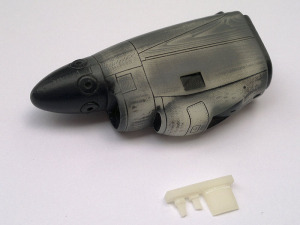 JDAM GBU-31 & GBU-38 Bombs
Continuing the theme of the F-16, we decided to release a set of twin beams BRU-57 smart bombs intended for. This is a typical suspension sixteenth and concluded that it is necessary to release the kit in scale 1/72 and 1/48. Similarly, the Intelligent bombs, in preparation for the production were a series of bomb JDAM and GBU GBU31-38 well in both scales.