Home
»
News @en
»
RAF photoreconnaissance Spitfire color set – result of cooperation between Hataka Hobby and Attack Squadron
Ten post dostępny jest także w języku: Polish
Already on this Friday Attack Squadron will launch their latest series of model kits and accessories for famous Spitfire PR XI. On this occasion Attack Squadron and Hataka Hobby jointly developed a special RAF PRU color set to be released together with the Spitfire kit.
Hataka Hobby HTK-AS23 "RAF Photo Reconnaissance Units paint set" contains not only legendary P.R. Pink for low level recce Spitfires, but also Camotint Green for early recce versions, Royal Blue for tropical variants, P.R. Blue for high altitude P.R.U. Spitfires and Mosquitoes, but also Medium Sea Grey used together with P.R. Blue on high altitude Spitfire VII and IX interceptors of RAF.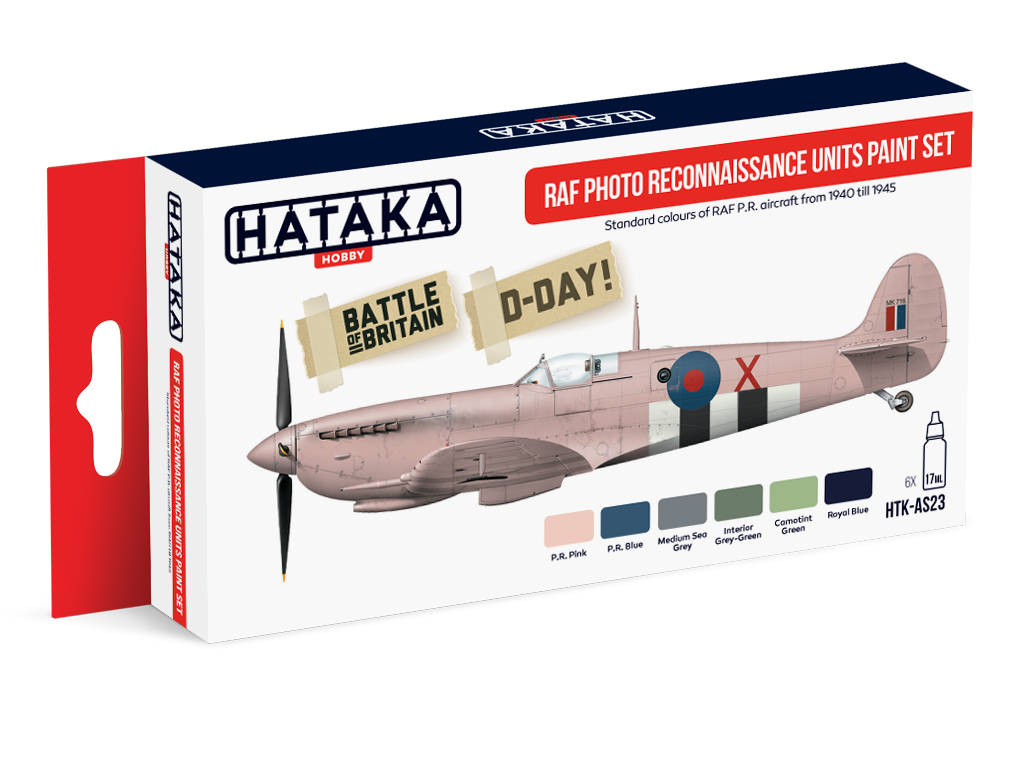 The set contains:
HTK-A024 – P.R. Pink – Overall colour of RAF P.R. aircraft operating at low altitudes from 1940 (incl. Spitfire PR I) to 1944 (incl. Spitfire FR IX)
HTK-A042 – P.R. Blue – Overall colour of RAF P.R. high-flying aircraft (widely used from 1941). Also on undersides of high-flying day fighters
HTK-A034 – Medium Sea Grey – Used on upper surfaces of RAF high-flying day fighters from May 1943 (including Spitfire Mk VII and Mk IX)
HTK-A025 – Interior Grey-Green – Standard colour of cockpit interiors of RAF aircraft throughout the war
HTK-A051 – Camotint Green – Overall colour of early Photo Reconnaissance Spitfires (converted from Mk I models)
HTK-A055 – Royal Blue – Overall colour of P.R. aircraft in North Africa and Far East incl. Spitfire PR Mk IV, but also Hurricane PR Mk II
HTK-AS23 paint set will be available in Arma Hobby shop from Friday, June 26th, 10:00AM CET. Special offer sets with Spitfire XI kits will be also available.