Ten post dostępny jest także w języku: Polish
Attack Squadron has released today three sets of aircraft fuel tanks 1/72 scale. Two of them are Buddy Tanks, aerial refueling devices from Vietnam War and Gulf War. Third one is Douglas 150 gal tank for early Skyhawka and for Top Gun Skyhawks.
 
Skyhawk A4B refuels RF-8P with Buddy Tank, photo- wikipedia
Buddy Refueling Tank  1/72 scale model kit
Buddy tank is just fuel tank with cable for earial refuelling. There are two versions 1/72 kit available from Attack Squadron: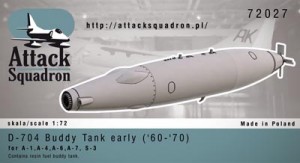 D-704 Buddy Tank early  ('60-'70) – 1pcs from Vietnam War for airplanes:
A-1 Skyraider
A-4 Skyhawk
A-6 Intruder
A-7 Corsair II
S-3B Viking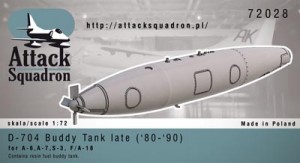 31-300 Buddy Tank late ('80-'90) – 1pcs operation on Grenada and Gulf War for aircraft:
A-4 Skyhawk
A-6 Intruder
A-7 Corsair II
S-3 Viking
F/A-18 Hornet
Douglas 150 gal Fuel Tank
Next in series of  Douglas Fuel tanks is designed for A4A i A4B Skyhawk – eg. new Airfix 1/72. two of tanks with stabilizers were used underwing of early Skyhawks . Then they were fitted underfuselage of  A4E/F from Top Gun – single tank without rear tiop and stabilizers.